What did you
gain
when you
lost?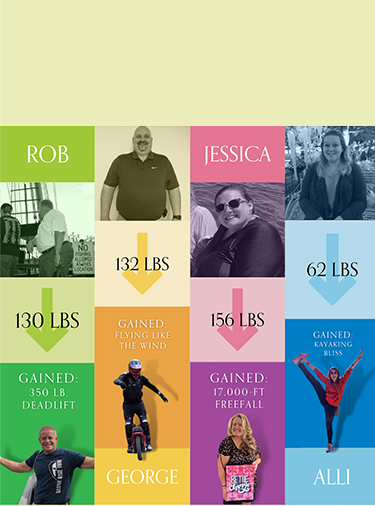 Share your Story!
We're using social media to drive awareness of the Powering Life Possible Project so we can inspire other to lose weight, get healthy and live their best lives–and we're thrilled you want to be a part of it!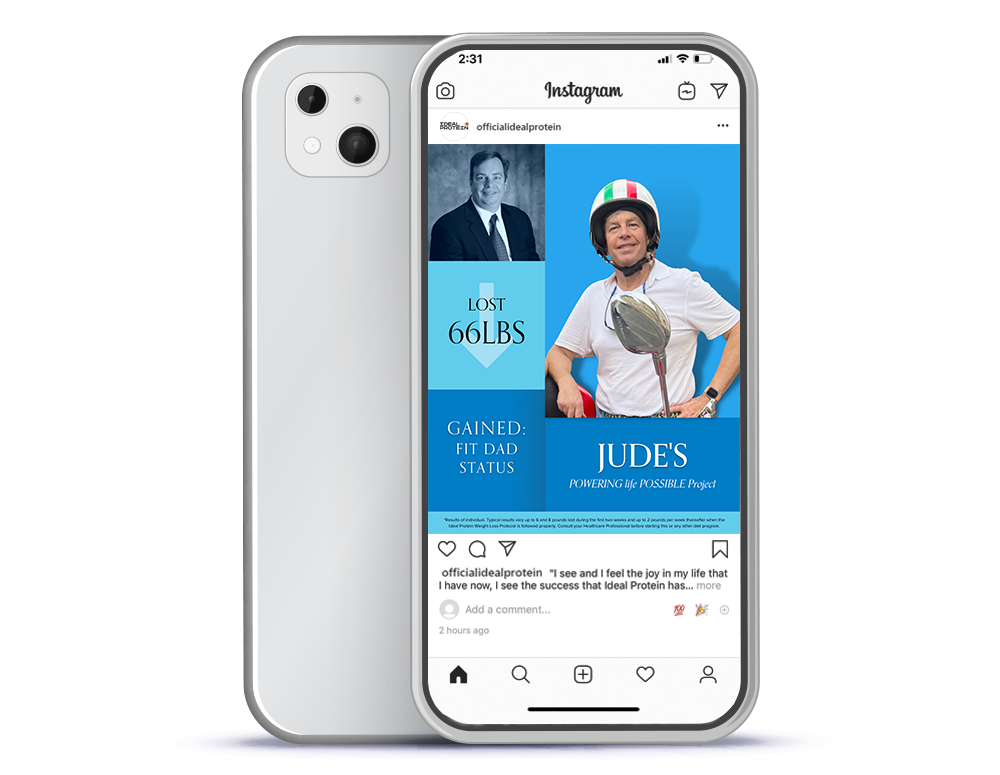 HOW TO PARTICIPATE
Join the Powering Life Possible Project by sharing your unique journey to weight loss and a more empowered lifestyle. To participate, we'll need BEFORE and AFTER photos along with your "Gained/Lost" statement.
We're using social media to drive awareness of our success stories, which includes your clinic and coach, and your personal testament to what's POSSIBLE with Ideal Protein. You can inspire others to start "Powering Life POSSIBLE" for themselves!
Follow these simple steps to complete your submission, and the Ideal Protein Social Team will help you empower others!
Click "Arrow" on the right to continue to Step 1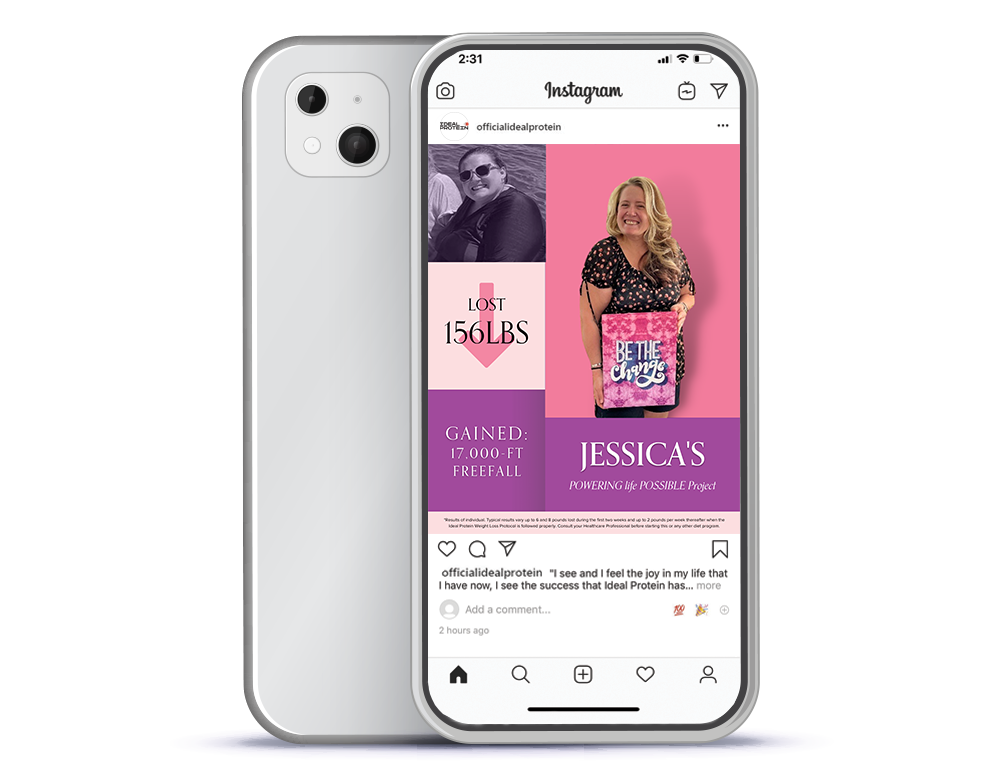 STEP 1: YOUR PHOTOS
All submissions will require 2 photos:
• 1 BEFORE photo
• 1 AFTER photo
The first photo should be from before your weight loss, and the second photo should showcase you in action enjoying an activity you love.
Both photos should showcase as much of yourself as possible. Try to use pics that are full length, a standing pose, or as close to full length as possible. Higher resolution photos work best, and most pics taken from your mobile device will do just fine.
Please, also avoid wearing logos or items that represent companies or groups, e.g. hats, pins, or shirts. Ideal Protein reserves the right, at its discretion, to modify, or remove submissions that do not meet our terms. (See the photo example.)
Additional requirements:
• File formats: JPG / GIF / PNG
Click "Arrow" above To Continue to Step 2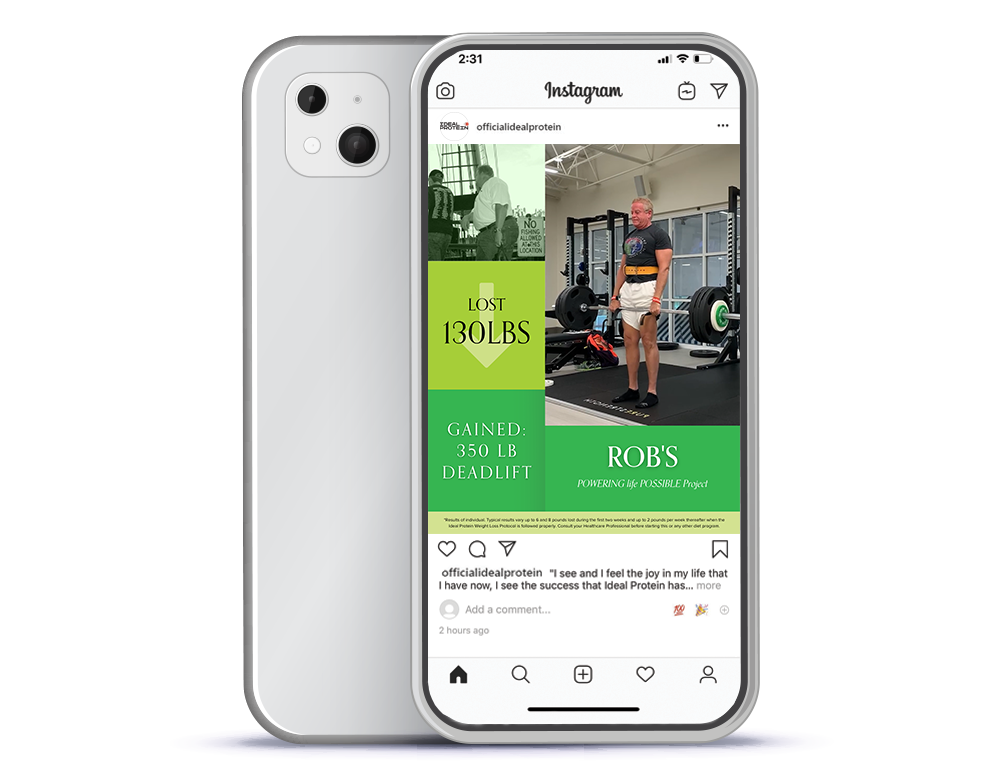 STEP 2: Form SUBMISSION
Fill out all of the fields in the submission form below. And don't forget to click the consent checkbox to make it official.
Please make sure all fields are fully completed and the information provided is accurate.
Once our team determines that everything is in order, the photos submitted will go through a quick design process. (See the example.)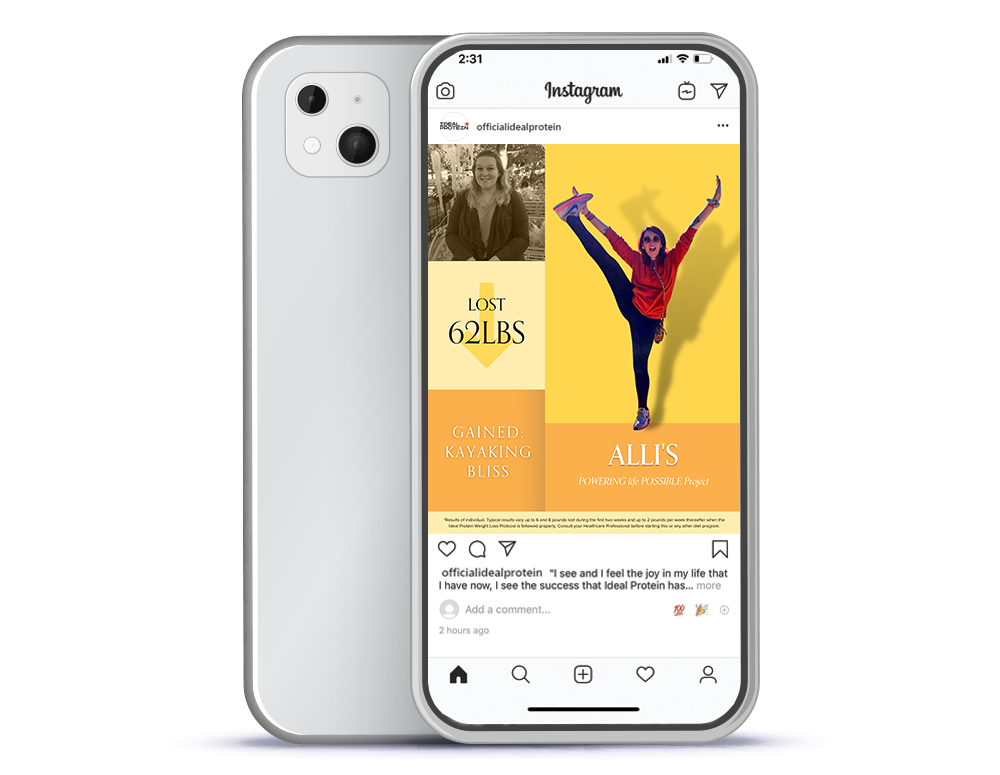 NEXT STEPS
Once completed, the Ideal Protein Social Team will send back your Before & After Story for you to distribute on your social channels. Be sure to watch the Official Ideal Protein social feeds for ALL of the participants in the campaign and LIKE, SHARE, and CELEBRATE the Ideal Protein Community!
You will receive an email verification when your submission is complete. Due to the number of submissions, this may take up to 2 weeks to prepare.
Thanks for participating in the Powering Life Possible Project!
Scroll down to complete the SUBMISSION FORM.